We continue our series of interviews with TwinRed team members. In our focus today is Anna Blaivas, TwinRed's sales director who has a special passion for the publishing side of an ad network.
In this interview, we discuss what publishers should pay attention to when choosing an ad network in general and what they should also be careful about. We talk about bot traffic and how to fight it and also why some of the biggest websites monetize their inventory on exclusive terms via only one network. We as well talk about ad formats and their variety: which one should be implemented first and which ones are best adds, in another word, the most demanding.
Anna shares with us how the traffic is monetized nowadays and what happens with the remnant traffic. We also could not skip Google's global raid on popunders. When Google says jump – the whole industry has to jump – why is that happening?
Give the whole interview a read to learn more insights.
Introduction
Hey Anna!
Tell us first what is your area of expertise? What are you responsible for within the network?
So at TwinRed I'm responsible for all areas of sales, that includes the publishing, advertising, RTB, blacklabel and performance departments, overall we are a sales team of 7 people now. I would say my area of expertise is all things sales, but I have a particular passion for the publishing side. 
Tell us also a bit about your career path? How did you find yourself in the industry?
I actually found myself in the industry accidentally, I think the same as many people. I was looking for my next role and got recommended by a friend to TrafficStars, which at that time was a team of around 7 people and needed a Russian speaker to manage the publishing department. I got offered the job at the interview, spent 1 year building up the publishing department from scratch and then got promoted to Sales Director when I managed all the departments.
What are your achievements? What is that that you are most proud of as a professional? 
That's a tough question! I would have to say it's building things from the ground up, the first time was at TrafficStars and now at TwinRed – building a new client base, new ideas, processes and most importantly a new team! 
How is your team doing at this hard moment of crisis? Have you managed to keep all the people ?
Our team is doing very well actually – I have set up "stand up" meetings twice a week so that the team can see each other (via conference calls), share their goals and get some social interaction with other team members. Not only are we working well effectively during this time, but we have actually hired 3 new team members during the lockdown! All the trainings are done via online tools and so far this has been working great for us, and we will continue to look for talented people who want to join TwinRed.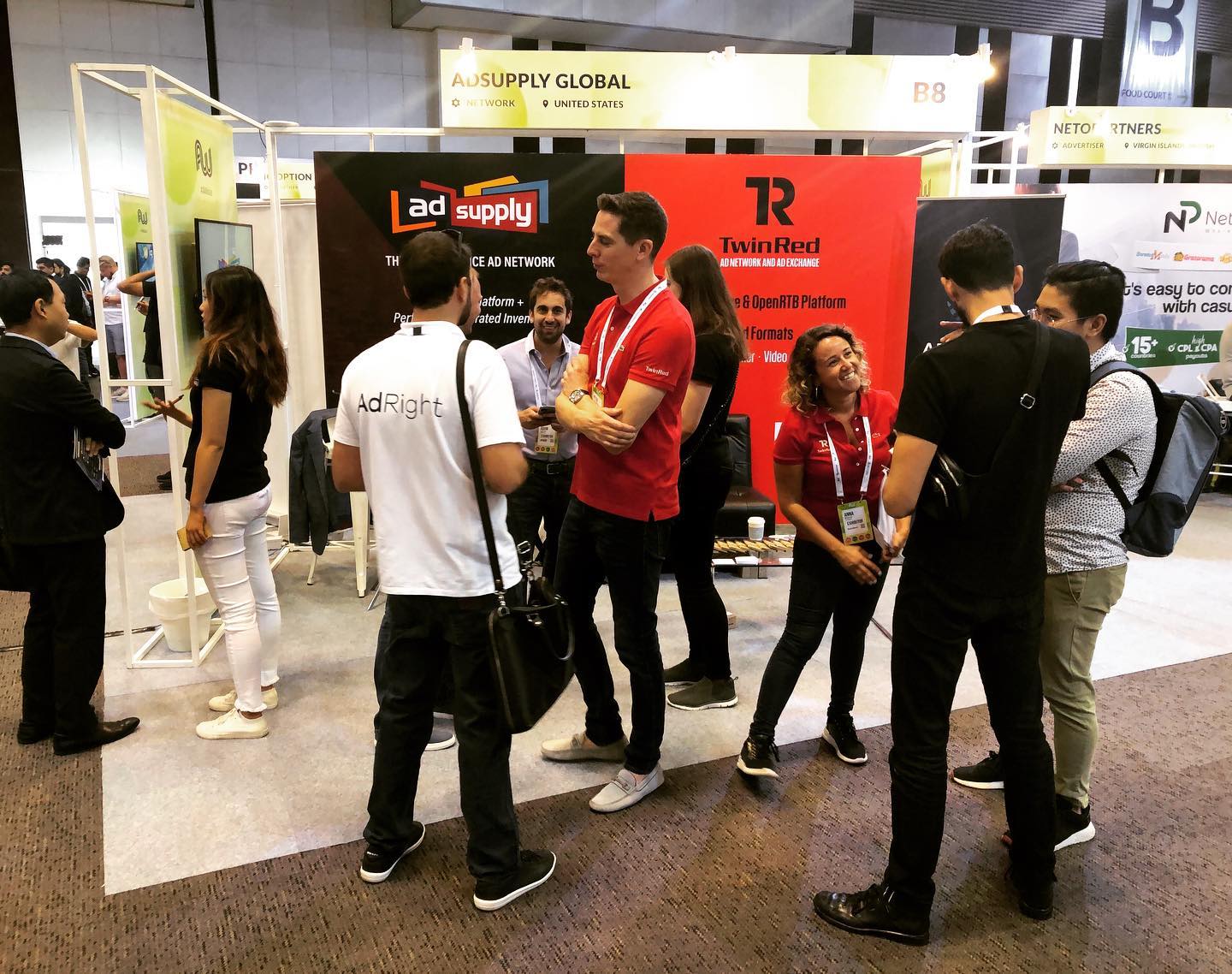 (TwinRed booth during AWA Bangkok)
Publishers
What is the standard checking procedure for any website before it gets inside any reputable ad network?
Our compliance department reviews every single website that gets registered in our system, without giving too many details – they look through everything including content, codes implemented, domain history etc. in order to ensure that we only approve sites which follow our guidelines. 
What publishers should pay attention to when choosing a network for traffic monetisation?
Aside from the "obvious" which is strong technology, good customer support and transparent statistics – I would advise publishers to go for networks which have an active bidding system with lots of different clients. They should look at a publisher site that the network works with and see what kind of offers are running on it – if there is a variety, that means the network has a strong advertiser base and will be able to monetise the websites more effectively. I would avoid networks that rely a lot on their internal CPA offers or a few strong advertisers, as that is more risky and does not determine the real value of the traffic. 
What should they be careful about?
Following on from my previous point – ad networks that give them very high rates from day 1 and then they see a decrease of the rates slowly. Usually this happens as ad networks try to "lure" publishers in by giving them strong rates at the beginning, often based on their internal CPA campaigns – which is not a "real value" nor is it sustainable. 
What kind of control does a publisher have on their end over ads displayed via an ad network?
It depends on each network's technology and policy. Most networks give publishers a choice between an iframe and JS code (for popunders – direct link vs script) – if they use an iframe / direct link then they pretty much have full control over how ads are displayed. Moreover at TwinRed, even with our script/JS publishers have a lot of settings they can choose such as frequency capping, page views, blocking different geo's etc. 
What if I see ads that are not meant to be on my website? What can I do?
This can happen due to inject / hijack ads and unless the publisher can identify who's code is running (which can be hard) one of the ways is to one by one switch off all your network providers to find the "culprit" and then provide all details to the network (geo / device / browser etc) so that they are able to identify the issue. 
Is that common situation that publishers can try to monetize fake/bot traffic? How often does that happen?
Personally I would say that we are seeing less and less of this as networks become better at identifying fraud traffic both before it is even sent (at site level) and at the traffic level, which makes it harder to monetise bot traffic for a long time. I would say most publishers that try this get caught within the first week. 
How do you detect fake/bot traffic from you publishers and what is your response?
Our compliance team has a variety of tools, including our in-house anti fraud system, which help detect fraud traffic with a high accuracy. Our first mission is to always reach out to the publisher to speak to them and understand what is happening before taking further actions. 
Why do some of the biggest adult websites try to monetize their traffic via only one network exclusively? Is that for better control?
Most of the top adult websites have their own networks to monetise their traffic in order to have full control and in order to be able to sell their traffic more effectively / safely under their own company. 
However websites who simply have exclusive partnerships with networks often do this as it is a more stable revenue stream for them and less "stress" as they don't have to monitor their rates continuously.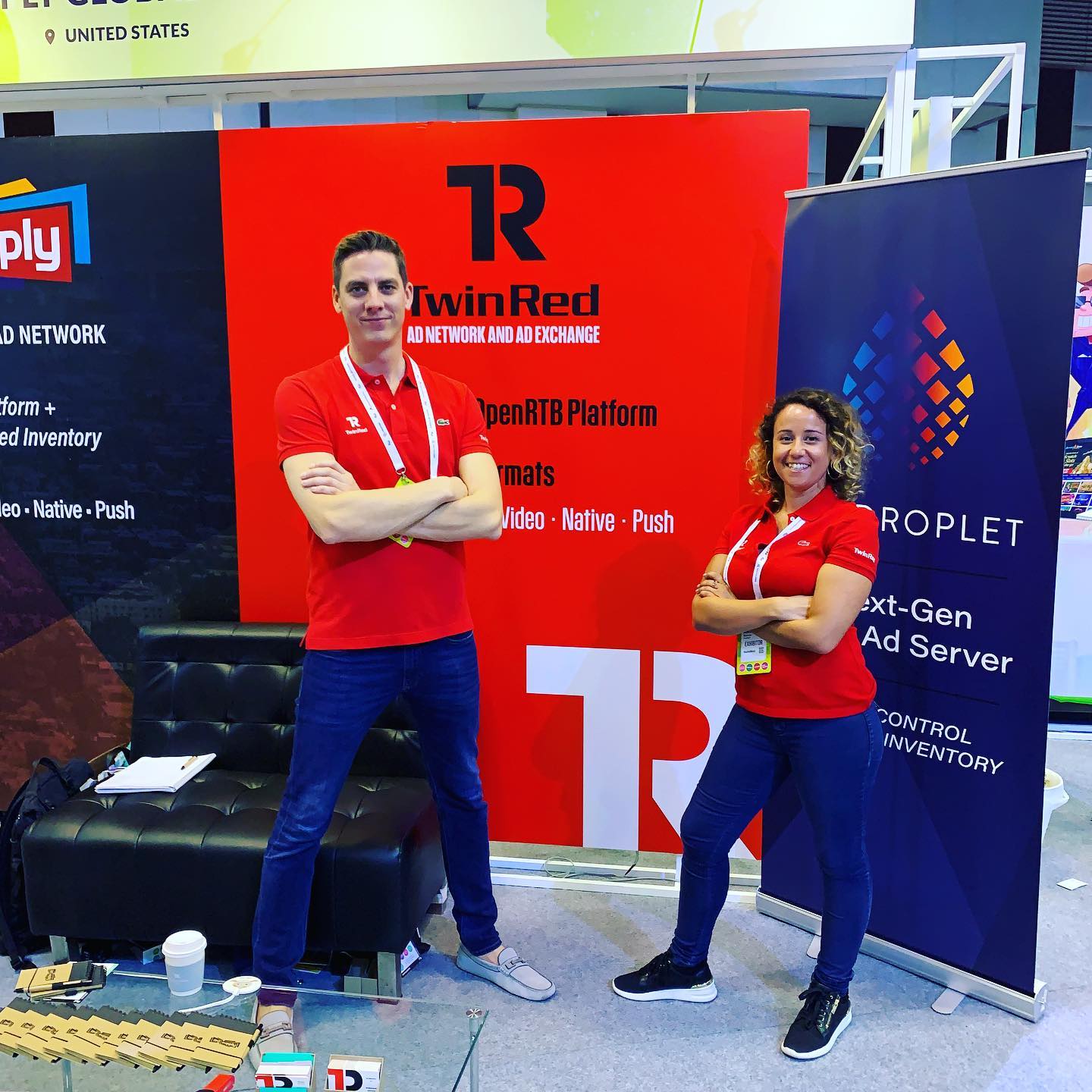 (CEO Peter and Sales Director Anna during AWA in Bangkok)
AD formats and traffic monetization
What ad formats should new publishers consider to implement first?
New publishers should go for the "standard" in order to test all the formats and see which ones they would like to continue with. This includes: banners, native ads, popunders (non-Chrome traffic), Interstitial ads, (Chrome) and video pre-rolls. After they have established some good rates / set up for these formats, they can then start collecting their push database (before starting push notifications) and experiment with video sliders and additional formats such as these – depending on their revenue needs. 
What are the most demanded ad formats right now?
Right now we are seeing interstitials and pre roll ads gain more and more popularity as publishers are looking for other formats to invest into due to the Chrome popunder situation. 
What countries are easier to monetize now?
Tier 1 is always easier to monetize and especially now during the lockdown. 
Can you tell us in a nutshell how traffic is mostly monetized nowadays? Is every click getting sold at auction? 
It depends on the network, but a network such as TwinRed aims to sell all the traffic via an auction / Real Time Bidding  system in order to determine the right value of the traffic. Our bidding consists of a large portfolio of external advertisers as well as some internal campaigns which compete with our clients. A small percentage is sold at a guaranteed / flat rate to some advertisers – but this is a small amount of the whole traffic.
What happens with traffic that no one is bidding at? Do you still monetize it somehow?
Every network will have some remnant traffic, in our case it goes to our internal campaigns where we put effort into optimising them on a daily basis to ensure that we can generate the highest possible eCPM's even on this traffic. 
I know we have already talked pop-unders many times, still let's make it clear –
Why do some networks serve pop-unders in Chrome even from websites that officially had stopped serving them?
There could be many different reasons, for example: 
Some websites still did not get flagged (I predict they will get flagged in the next round of Google reviews) 

Some publishers are "hiding" their popunders deep in user actions (i.e. on the 5th click on specific behaviours) 

Some publishers don't care about getting banned by Google (usually lower quality) 
What real sanctions can Google place on publishers for not abiding by the rules? 
Google will block all your ads and/or outgoing links for 24 hours, and may be more. Moreover there are always rumours going around that Google could punish disobedient webmasters by harming their SEO placement – whilst this has not been confirmed, many publishers worry about this. 
How has it come that Google can control any website on the web?
Google dominates the browser market which a majority share, and for most publishers this is their most valuable source of traffic. Therefore after Google decided to become the Internet "monitor" by pairing up with the "Coalition for Better Ads" we have come to a point where when Google says jump – the whole industry has to jump, or they face losing a very large revenue stream. 
What ad formats will be gaining momentum in the near future? 
Aside from formats we have already discussed – interstitials & pre-rolls – I think we will see a lot of new variations to the standard ad formats as everyone is now more interested in finding clever ways to increase monetisation. We already see a lot of development going into new ways of presenting pre-rolls, native ads and slider units – variations on the traditional ad formats. 
Thanks Anna!
Lastly, where can people find you on-line?
You can find me on LinkedIn (Anna Blaivas), Telegram (annablaiv), Skype and email (anna@twinred.com) 
Thank you!